The first store of algebraist coffee in Changsha stands beside the main road. Its outstanding 10-meter-high shopfront has become an attractive visual focus to arouse the consumers' curiosity to the greatest extent.
The design extracts coffee culture elements and innovates material application. The embossed facade adopts a 3D print approach with painted sandstone carving to simulate the real flowing coffee.
The super symbol, as the brand symbol, grabs attention and enhances emotional connection with consumers. The back-lit logo at the visual center of the shopfront matches the hanging spliced gradient red acrylic logo installation on the right of the entrance.
The store coordinates appear as luminous acrylic round tubes embedded in hollow carvings of stainless steel round tubes, and every corner reveals the exquisite design of details. Ultra-white tempered glass with a minimalist silver frame presents a unique aesthetics of craftsmanship.
Following a design strategy of module repetition and symbol deconstruction, the interior space uses different materials with distinct decoration styles and characteristics, thus, the warmth of wood and the futuristic sense of silver blend.
Refine and rich in texture, the dark marble bar counter and the 3.2-meter-high solid wood composed of a matrix of 80x80cm carved monograms enrich the layers of space.
The arrayed modular design method also responds to the mathematical elements behind the brand algebraist coffee.
With a light and soft design, natural streamlines run through the entire space. The dark inner walls extend the facade design language, and the layers of the ceiling seem like flowing flat white. The curved tabletops and seats and elegant green plants create a fresh and warm atmosphere.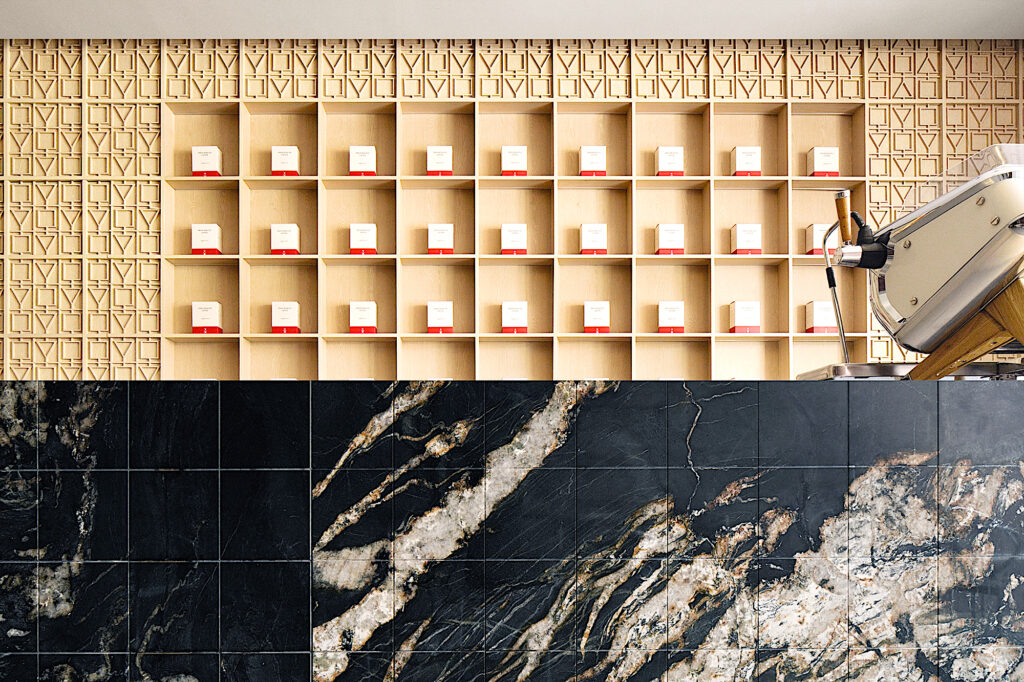 Photo credits: Yuuuun Studio
Design: STILL YOUNG
You may be also interested in: