Frydate really knows how to make fantastic fries. Their meticulous attention to detail includes the precise cutting of potatoes, the choice of high-quality frying oil, and the mastery of cooking times. Yet, their aspiration goes beyond the ordinary; they seek to establish themselves as pioneers when it comes to improving the hospitality experience in the french fries industry. Frydate's culinary masters strived to create an exceptional fries experience that honours tradition while embracing contemporary flavours. Guided by this vision, 5AM undertook an exploration to examine the fundamental attributes of the typical Belgian frietkot: swiftness in ordering, carefree togetherness, whether dining in or on the go. These basic elements shaped the layout ensuring a seamless customer flow for all ages and temperaments. Located at the rear, the open kitchen, bar, and pick-up area seamlessly blend together, creating a harmonious space. In the front, you'll find convenient ordering kiosks surrounded by a variety of laid-back dining arrangements. Regardless if you're with family, friends, a partner, or enjoying some time alone, they have a perfect spot for you to enjoy your culinary journey.
The beloved frietkot, an essential element of Belgian culture, served as the main inspiration for 5AM, evoking radiant memories of a bygone era. This inspiration seamlessly weaves into the interior design, incorporating materials and classic patterns that celebrate tradition. A dance of metal panels and brick accents, canopies like those of the authentic frietkot, all together creating a kind of urban vibe where the typical friterie was mostly found. Contrasting with the cooler industrial elements, resin-laden walls and floors fill the space with a welcoming cosiness, accented by subtle hints of black.
The lighting reflects the past, ensuring that every detail is thoughtfully intertwined, creating an ambiance of warmth and comfort. The large chandelier above the communal table is another subtle reminder of the Belgian fries culture. For connaisseurs, it's a nod to the popular fries cutter found in almost every Belgian household. The design studio has gone beyond the norm of basic functional lighting and, instead, incorporated the unique form of fries themselves into the design of the light fixtures, including wall lights, chandeliers, and wall installations, each paying homage to the allure of neon lights that were once synonymous with fry establishments. This fusion of design elements brings an element of visual fascination to the space, elevating the overall aesthetic.
Real wood was carefully chosen for the tables, including a generously-sized custom- made communal centerpiece. This piece serves as a tribute to the essence of Belgium's fry culture, capturing the spirit of gathering with loved ones and sharing a plate of fries in a convivial ambiance. Furthermore, the deliberate detailing, such as the clever slot for herbs and accessories in the communal table, the elevated seating area, and the window seatings, align seamlessly with the typography of Frydate's logo.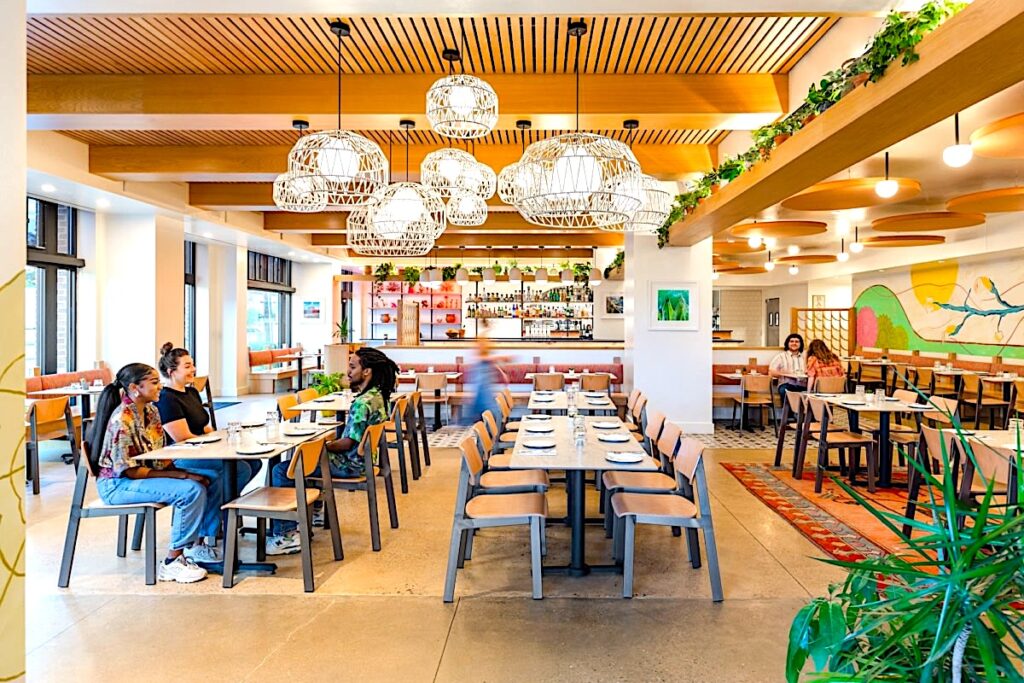 Photo credits: Skinn Branding Agency
Design: Olivier Caluwier, Jonas Bluhm, Amber Feijen & Carine Aussems/5AM
Flooring: Floorcouture
Walls: Sikkens
Ceiling: Hunter Douglas
Decorative lighting: Neonart
Functional lighting: Wever&Ducré / XAL
Kiosks: Custom made
Wall paneling: Alinel
Bricks: ABC Klinkergruppe
Metal coverings: Alucobond
Chairs: &tradition/Menu
Tables: Pedrali/custom made
Stools: Menu
Outdoor furniture: Menu/custom made
Frydate
Lippenslaan 75, 8300 Knokke-Heist, Belgium
Phone: +32 50 37 50 01
You may be also interested in: